A plethora of conversation has been invested in discussions about the internet security breach resulting in nude celebrity photos getting into nefarious hands. I'm surprised that anyone is surprised that this occurred. I'm even more surprised that there are those surprised that celebrities were targeted. Most of all I'm surprised that so many people have succumbed to a false sense of technology security.
Apparently the massive data breaches into systems far more secure than the average "Cloud Storage" gatekeepers didn't set off any alarms among most of us. After

Anthony Weiner

, and the

Target thing

, people are still trusting the non existent security of the net with sensitive data and compromising images of themselves. Seriously?
What is it that convinces some people to do things that burdens them with states of pro apprehension and post anxiety? What is it that drives someone to distribute nude images of themselves to whomever or whatever while knowing those images may just turn up in unintended places someday? Is it love, lust, stupidity, alcohol, or drugs? I'm willing to bet It's one or a combination of the aforementioned.
If you're one prone to firing off nude images of yourself do know this, if you don't own it you can't control it.
Once you hit the send or post button, it's out of your control. It doesn't matter where you're posting or to whom you're sending your B grade porno digital stills or video - once its out of your control there is very little you can do to control the trip the material may wind up taking.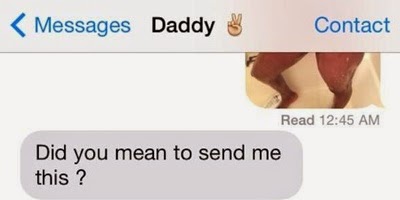 We all would love to believe we can trust our intimate partners with our most intimate secrets and possessions. The reality of that is people change, relationships degrade, people become vengeful, people stop caring. It's a thin line between love and hate. Jilted lovers find themselves in possession of photos that can hurt back if publicly shared. Side pieces find out they've been played and fire off a couple of those ding-a-ling dangling /bare booty shots to the spouse you cheated on. It can get ugly, expensive, and dangerous. Still not convinced? Take a look at this--->
Nude pic Revenge Site
Yeah you don't want to wind up there.
To be sure, all distribution of compromising material by trusted sources is not nefarious in occurrence. People get careless. They leave unlocked devices laying around, they lose devices, they have PCs and laptops that are not password protected. Devices get stolen, they get "snooped" by spouses, partners, and law enforcement. Then there you are - one day your naked ass is floating around the net, or worse among your social site family and friends. Or your co-workers have gotten a hold of an image of you in some contorted nude position. Leaving town earth sounds real good about now.
As for trusting "cloud services" consider first why they may be a hackers first stop to shop. The cloud providers suffer from an inherent problem: they make good targets for hackers with ill-intentions. You see instead of strong arming attempts on a multitude of individual accounts, a hacker can hit the jackpot by breaching one commercial cloud account that will yield access to thousands of individual accounts.
Consider second the disclaimers - you know that mumbo jumbo you didn't read before you clicked the "I Agree to Terms" button. Yes that mumbo jumbo that your attorney came up with that will kill that lawsuit you two were plotting behind the loss of your "bucket nekid" pictures. Here's an excerpt from Apple's "we ain't responsible" disclaimer.
"
While the terms and conditions of iCloud
explicitly say
that "Apple does not represent or guarantee that the service will be free from loss, corruption, attack, viruses, interference, hacking, or other security intrusions,
" Read it in its entirety
HERE
.
Dropbox is fairly clear in letting you know you're playing at your own risk.
They scream it in all caps.
TO THE FULLEST EXTENT PERMITTED BY LAW, IN NO EVENT WILL DROPBOX, ITS AFFILIATES, SUPPLIERS OR DISTRIBUTORS BE LIABLE FOR (A) ANY INDIRECT, SPECIAL, INCIDENTAL, PUNITIVE, EXEMPLARY OR CONSEQUENTIAL DAMAGES OR ANY LOSS OF USE, DATA, BUSINESS, OR PROFITS, REGARDLESS OF LEGAL THEORY, WHETHER OR NOT DROPBOX HAS BEEN WARNED OF THE POSSIBILITY OF SUCH DAMAGES, AND EVEN IF A REMEDY FAILS OF ITS ESSENTIAL PURPOSE; (B) AGGREGATE LIABILITY FOR ALL CLAIMS RELATING TO THE SERVICES MORE THAN THE GREATER OF $20 OR THE AMOUNTS PAID BY YOU TO DROPBOX FOR THE PAST 12 MONTHS OF THE SERVICES IN QUESTION. Some states don't allow the types of limitations in this paragraph, so they may not apply to you.
Google Docs gives themselves somewhat of an out for breach of data also.
…YOU EXPRESSLY UNDERSTAND AND AGREE THAT GOOGLE, ITS SUBSIDIARIES AND AFFILIATES, AND ITS LICENSORS SHALL NOT BE LIABLE TO YOU FOR:
A) ANY DIRECT, INDIRECT, INCIDENTAL, SPECIAL CONSEQUENTIAL OR EXEMPLARY DAMAGES WHICH MAY BE INCURRED BY YOU, HOWEVER CAUSED AND UNDER ANY THEORY OF LIABILITY.. THIS SHALL INCLUDE, BUT NOT BE LIMITED TO, ANY LOSS OF PROFIT (WHETHER INCURRED DIRECTLY OR INDIRECTLY), ANY LOSS OF GOODWILL OR BUSINESS REPUTATION, ANY LOSS OF DATA SUFFERED, COST OF PROCUREMENT OF SUBSTITUTE GOODS OR SERVICES, OR OTHER INTANGIBLE LOSS
All Cloud services protect themselves against backlash liability behind incidents like the loss of compromising images and videos. Those disclaimers alone should confirm for all of us that guaranteed security is non-existent. Knowing that should steer folks clear of trusting sensitive material to storage sites outside of their control. For those still inclined to do so - think long and hard about the potential consequences of a data breach or loss. Think long and hard before you relinquish that degree of leverage and control to an array of algorithms that can be manipulated. The odds of the public never seeing it is stacked against YOU.